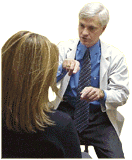 Toxicology Definition: Toxicology is the study of the adverse effects of chemical, physical or biological agents on living organisms and the ecosystem. This includes the prevention and amelioration of such adverse effects.(www.toxicology.org)

Dr. Early has special training in exposure/disease relationships, and low level toxin exposure issues. He uses information technology to educate and communicate with patients.

It is the goal of Upstate 0cc Med to provide timely, state of the art toxicologic services, academically and fairly, with a focus on issues of attribution and treatment.
Additional Services
Toxicology expert witness
Environmental chemical exposures expert witness
Benzene expert witness
Carbon monoxide expert witness
Mold expert witness
Mercury expert witness
Arsenic expert witness
Lead expert witness
Chromium expert witness
Drug abuse expert witness

Alcohol abuse expert witness
Toxins expert witness
Irritants expert witness
Forensic toxicology expert witness
Environmental toxicology expert witness
Medical toxicology expert witness
Drug toxicology expert witness
Industrial toxicology expert witness
Heavy metals expert witness
Chemical toxicology expert witness
Copyright © 2005-2017 Upstate Occ Medicine/Wellness Family Practice All rights reserved
You may not reproduce materials on this site or any coding used to produce this site without written permission from Upstate Occ Medicine/Wellness Family Practice

This web site professionally designed by JMB Designs, LLC